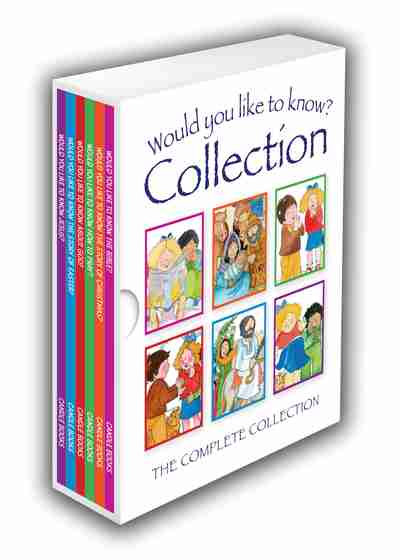 About the Book:
In this new addition to the fantastic Would You Like to Know? series, six little books are featured in one boxed gift set. Each book offers a starting point for young children to explore some of the key points of their faith and gain a greater understanding of Christianity. Each title has accessible illustrations, an inscription page, and notes for parents. A wonderful gift for those getting to know the church.

Contains:
Would You Like to Know About God?
Would You Like to Know How to Pray?
Would You Like to Know Jesus?
Would You Like to Know the Bible?
Would You Like to Know the Story of Christmas?
Would You Like to Know the Story of Easter?
My Review:
These are the perfect little books for little, tiny hands. In this collection your little one can learn a very short version of some very important things about God, Jesus, and the Bible. It is perfect for little hands and is in a complete collection containing 6 little books to teach them about their Creator and Savior. In this collection is also two books discussing Christmas and Easter, the two most important holidays that we celebrate.
I love the books and what they teach our preschoolers and we really enjoyed the illustrations, as well. These would make a really good baby shower gift. It is a great collection that covers a great deal of material.
**Disclosure** This book was sent to me free of charge for my honest review from the author. All opinions are my own.