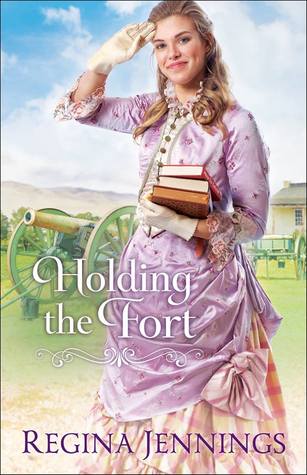 About the Book:
When dance hall singer Louisa Bell visits Fort Reno to see her brother, she is mistaken for the governess that the harried Major Daniel Adams is waiting for. Between his rowdy troops and his two daughters, he has more responsibility than he can handle alone. Eager for the opportunity, Louisa sets out to show the widower that she is a perfect fit.
My Review:
Louisa Bell has never been one to complain so when she is handed a job in the local brothel, she decides she has no other choice but to take the bull by the horns. That is until she see an opportunity as a governess for Major Adams two daughters that seem beyond his control. Louisa is perfect for the job, she is kind hearted and willing to help anyone even if its Major Adams' rowdy daughters. She makes the perfect governess for this family.
Regina Jennings is best known for her quirky novels that present a well cast of characters and a strong plotline, but what I like the most is all the comedy or funny nonsense that takes place in each of her books. She is so good at this her books could literally be made for television. Great story! A winner for book one in The Fort Reno series.
**Disclosure** This book was sent to me free of charge for my honest review from the author. All opinions are my own.