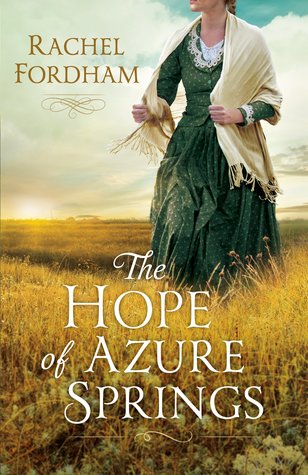 **Disclosure**This book was sent to me free of charge for my honest review from the publisher. All opinions are my own.
About the Book:
Seven years ago, orphaned and alone, Em finally arrived at a new home in Iowa after riding the orphan train. But secrets from her past haunt her, and her new life in the Western wilderness is a rough one. When her guardian is shot and killed, Em, now nineteen, finally has the chance to search for her long-lost sister, but she won't be able to do it alone.

For Azure Springs Sheriff Caleb Reynolds, securing justice for the waifish and injured Em is just part of his job. He's determined to solve every case put before him in order to impress his parents and make a name for himself. Caleb expects to succeed. What he doesn't expect is the hold this strange young woman will have on his heart.

Debut author Rachel Fordham invites historical romance readers to the charming town of Azure Springs, Iowa, where the people care deeply for one another and, sometimes, even fall in love.
My Review:
Em has nothing to prove except, maybe to herself. She has already been through an horrendous ordeal when her guardian was shot right before her eyes. Being 19 has had its challenges but now the weight of that has grown much heavier. Her guardian is gone, she is a young girl in the west by herself. She has a lot to figure out but not a lot of time to do it.
She settles in a place called Azure Springs, Iowa. It seems this is a community she can fall in love with too. With its rolling hills and beautiful sunsets, whats not to love? But what she didn't count on was finding love, after-all she has a lot on her plate as it is without throwing love in the mix.
Rachel Fordham has written a beautiful love story as her debut novel takes flight. Not sure many people would want to miss the love story between Em and Caleb. A very sweet story!