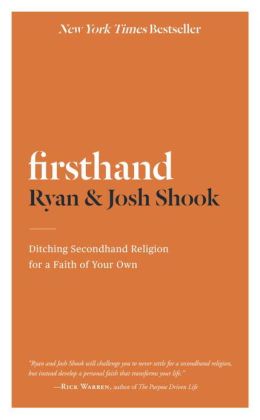 About the Book:
Join us on a journey to find a faith of your own.
A faith that isn't your parents' or your youth pastor's or your church's.
Start from scratch, question everything, and get hold of a faith that's real.
We call it firsthand faith.

"It's rare to find young people unafraid to voice their doubts while still being bold in their faith. Ryan and Josh are two of those people."
—Mark Batterson, lead pastor of National Community Church, Washington, DC, and author of the New York Times bestseller The Circle Maker
"All Christian parents want their children to develop a faith of their own. Firsthand asks tough questions and guides those with a secondhand faith to find Christ for themselves."
—Craig Groeschel, pastor of LifeChurch.tv, Edmond, OK, and author of Soul Detox
"Josh and Ryan Shook, the sons of well-known pastor and author Kerry Shook, have fully embraced the fact that although their dad gave them a great start, they need to run their own race. Learn how to embrace a firsthand faith and walk in the strength of a personal relationship with Christ."
—Steven Furtick, lead pastor of Elevation Church, Charlotte, NC, and author of the New York Times bestseller Greater
"Ryan and Josh Shook don't shy away from the tough questions but face them head-on in this powerful book that will encourage young adults not to settle for an inherited faith but to discover a true relationship with Jesus that is unique, exciting, and every bit their own."
—Pete Wilson, pastor of Cross Point Church, Nashville, TN, and author of Plan B
About the Authors:
RYAN SHOOK is a filmmaker and blogger. A graduate of Baylor University, he is married to Sarah, and they live in Los Angeles, California.
JOSH SHOOK is a musician, a song writer, and a graduate of Belmont University. He lives in Nashville, Tennessee
My Review:
The Shook brothers decided after a careful examination of their mutual faiths that it just wasn't fulfilling to them anymore and actually considered walking away. But luckily, they decided to tear apart Christ's life and all that falls into that category and come to their own conclusions. Like many of us, they grew up in church and under the leadership of their parents, pastor and youth pastor came to acquire what they believe to be a hand me down faith. And like alot of people of their generation they needed to investigate it for themselves too see it...Firsthand....
I am a middle aged woman with growing little children and I came to this same conclusion in my late twenties. Realizing that as a child and then young adult I had the faith and Christian walk that my parents and many other elders in the church let me "borrow or use", if you will. But as I got older and started along with my husband going about the job of raising our children that is when it suddenly dawned on me that it was now my job to build my relationship with Him.
This book is a perfect book for anyone that is questioning their especially if it is something that seems like it has stalled out over the years. The authors walk you through some of the questions they had and you go along with them to discover the answers.

**Disclosure** This book was sent to me free of charge for my honest review from Waterbrook Multnomah and the Blogging for Books program.