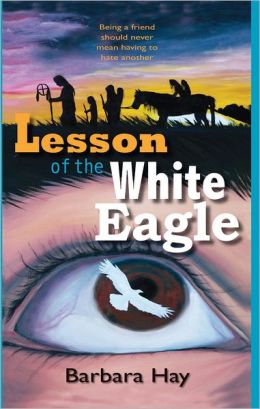 About the Book:
All 15-year-old Dusty wanted was to go to his hometown's bash for the 1893 Land Run centennial. Instead, he finds himself a witness to a hate crime, and he's the one driving the getaway car. Now a mystical white eagle has invaded his dreams, making him question everything he thought he knew about Indians and the bonds of childhood friendship. After the white eagle takes Dusty back in time to see the horrors the Ponca people endured on their forced removal from what would become Nebraska to Oklahoma Territory, Dusty must decide whether or not to act on the lesson he has learned from seeing in action one of the first American civil rights activists: the Ponca's own Chief Standing Bear.
About the Author:
Lesson of the White Eagle
is Barbara Hay s debut young adult novel. Her work has appeared in the Tulsa World, Columbia magazine, the Sooner Catholic, and Women's World Weekly. Hay holds a bachelors degree in liberal studies from the University of Oklahoma. The widowed mother of four children, she lives and writes at her home in Ponca City, Oklahoma.
My Review:
Dusty and Jenna decide to go to Jenna's house to hangout one day after school. Jenna's mom decides to go to the store leaving the two teenagers alone in the house. After Jenna's mom returns from the store Dusty runs on home and his mother asks him to set the table for supper and to go get his sister. After some complacency from his little sister Dusty is finally able to get her to come home with him. Dusty helps his Dad his dad in their family run business and he is a little put off by his dad because he is told he will have to help out this Saturday even though Dusty had plans of his own.
Dusty ends up going out with his friends that night and while they are there one of Dusty's friends is bumped into by an Indian boy from the Ponca tribe named Stephen. Dusty's friend threatens Steven which is no surprise because this guy isn't crazy about Steven or his people. Jenna just happened to be where the guys were and seen what happened and made a bet with the bully that he was sure he would win.
This guy that likes to bully people really enjoys causing trouble. He manages to get several of the kids in trouble right along with him
while they are at a town event. Afterwards, Dusty goes along with his friends, Garrett and Jimmy for a ride not knowing that this is all leading up to something not so great.
**Disclosure** This book was provided to me free of charge for my honest review by RoadRunner Press.