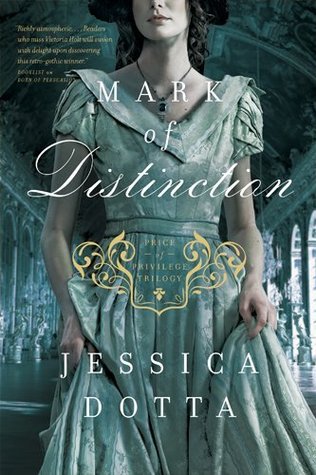 About the Book:
London is said to be the glittering jewel of society, a world unto itself—but to Julia Elliston it is a city of shadows. Her life is swiftly dissolving into scandal. And in Victorian society, even a whisper of scandal—substantiated or not—can be the death of a young woman's reputation.

When Julia discovers that Lord Roy Pierson, her guardian and one of most influential men in England, is the father she has never met, she begrudgingly accepts his protection. But Chance Macy's power is far-reaching as well.

Thrust into society as the Emerald Heiress, Julia is the toast of London, a celebrated curiosity. But in reality she's trapped between the clutches of two powerful men. Aided only by a gentleman whose intentions she prays she can trust, Julia must finally take control of her own fate—but outwitting one's foe rarely goes according to plan.
About the Author:
Jessica Dotta has always been fascinated by England during the Regency and Victorian eras. Her passion for British literature fueled her desire to write in a style that blends the humor of Jane Austen and the dark drama of a Brontë sister. She lives in the Nashville area with her family and works as a freelance media consultant and publicist. Visit her online at www.jessicadotta.com.
My Review:
Julia never expected that when she became involved with Mr. Macy, that it would bring so many others down. Her father and a few others feel that they can no longer trust or believe anything she says or does anymore. As the story go along it follows the same trail as others from the Victorian era---secrets, politics, revenge and things of the like are included in this storyline as well. This book was a continuation of the first book in the series which was entitled,
Born of Persuasion
, the review for that one is
here
.
The author writes about this time period as if she lived in it, so you can really tell how much she enjoys it. Julia finally learns who Lord Roy really is, will this clear up things for her? Mark of Distinction, has many twists and turns, you will be on the edge of your seat till the very end. The author has a way of keeping you in the dark, along the way---so you will continue to read to find out whats going on. Book 3 comes out next spring, so be on the lookout for it! I'm sure it will be just as good.
**Disclosure** This book was sent to me free of charge for my honest review from Book Fun.