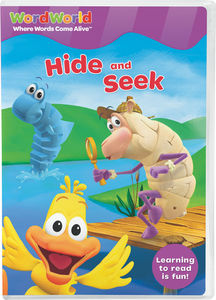 About the DVD:
Join the WordFriends and play a game of Hide and Seek! In this special game, the friends have to hide behind WordThings that end in ake. BUG builds a RAKE, and PIG builds a CAKE. But SHARK is so big that it's hard for him to find a good hiding place. Oh, no- time is running out! What ake word is just right for SHARK? Join the WordFriends and learn how letters come together to make sounds, and that sounds make words! Reading has never been such an adventure!
About the Company:
NCircle Entertainment specializes in the sales, marketing and distribution of quality children and family entertainment content.

Including industry veterans, with over 20 years of experience, NCircle has quickly become one of the leaders in children's entertainment by establishing working relationships with some of the biggest and best companies in children's entertainment.
My Review:
My children have enjoyed Word World ever since it was created and released, so I jumped at the chance to let my soon to be 4 year old watch this DVD, that is the latest for the beloved series. A series that my children first viewed on the PBS channel which is still viewed today. It is a great children's animated series that teaches children about letters, sounds, words, and word/sentence building. There are four different episodes on the
Hide and Seek DVD
, they are:
Hide and Seek
J-J Jelly
The Really Red Ruby
Bed Bugs
Hide and Seek
is all about building words that end in "ake". Words such as cake, rake, etc. One of the characters runs into a problem building a word to add to the already growing list. My son loves to watch the interaction of the animal characters. I as a parent feel good letting him watch Word World because it's educational and I don't have to worry about what is viewed. Its a fun and entertaining way to learn phonics.
It's running time is 60 minutes and was released 5/13/2014. The suggested retail price is $6.99 and is available at amazon at this
link
. My sponsor has offered to give away a DVD of Word World Hide and Seek to one lucky reader, please enter below.
**Disclosure** This DVD was provided to me free of charge for my honest review from
N Circle Entertainment
.