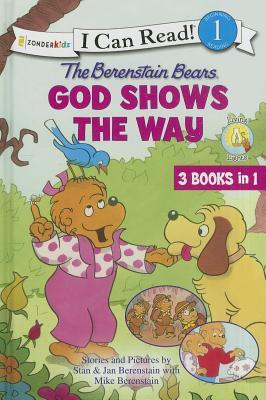 About the Book:
Three of the beloved Berenstain Bears Good Deed Scouts I Can Read books now bound up into one book for emergent readers.

Young readers will learn from the Berenstain Bears just how important it is to serve and love one another in The Berenstain Bears God Shows the Way. Written in level one I Can Read™ standards, this bind-up of titles from the Berenstain Bears Living Lights I Can Read series is sure to please young, emergent readers as well as parents and grandparents looking for quality books that will help practice early reading skills and also teach lessons about serving and caring for others.

Included in this collection are the following titles:
Faith Gets Us Through
Have No Fear, God Is Near
Piggy Bank Blessings
About the Authors:
Stan and Jan Berenstain introduced the first Berenstain Bear books in 1962. Mike Berenstain grew up watching his parents work together to write about and draw these lovable bears. Eventually he started drawing and writing about them too. Though Stan died in 2005, and Jan in 2012, Mike continues to create the delightful Bear adventures from their studio in Pennsylvania, in an area that looks much like the sunny dirt road deep in Bear Country.
My Review:
My children love The Berenstain Bears! We own the books and the movies. I love them because of the character messages they send my children. But recently they started incorporating God more into their message and I really love that. My children don't care what message they send, they just love them. This particular book has three different stories in it and is a level 1, I Can Read book. Perfect for ages 4-8, those beginning readers will enjoy these stories that they can read all by themselves.
Each story shows how we should trust our faith in God to get us through even the stickiest situations. He alone is the only one who can, after all. Each story also provides the usually adventure that you can count on from this bear family, and an adventure you will get. Each story has scripture references running through it which makes the story even better.
**Disclosure** This book was sent to me free of charge for my honest review from Book Look.