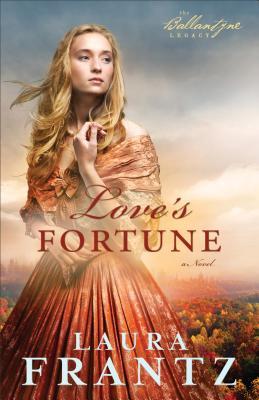 About the Book:
Sheltered since birth at her Kentucky home, Rowena Ballantyne has heard only whispered rumors of her grandfather Silas's vast fortune and grand manor in Pennsylvania. When her father receives a rare letter summoning him to New Hope, Rowena makes the journey with him and quickly finds herself in a whole new world--filled with family members she's never met, dances she's never learned, and a new side to the father she thought she knew. As she struggles to fit in during their extended stay, she finds a friend in James Sackett, the most valued steamship pilot of the Ballantynes' shipping line. Even with his help, Rowena feels she may never be comfortable in high society. Will she go her own way . . . to her peril?

With her signature attention to historical detail, Laura Frantz brings 1850s Pennsylvania alive with a tender story of loss, love, and loyalty. Fans will cheer for this final installment of the Ballatyne saga.
About the Author:
Laura Frantz
is a Christy Award finalist and the author of several books, including
The Frontiersman's Daughter
,
Love's Reckoning
, and
Love's Awakening
. She currently lives in the misty woods of Washington with her husband and two sons. Learn more at www.laurafrantz.net.
My Review:
When her father receives a mysterious letter from Pennsylvania, Ravena "Wren" Ballantyne just hates the idea of having to leave their Kentucky home. After her mother died, Wren's father was very withdrawn--which bothered her. But now with talk of him returning to his childhood home, he seems happier than she has seen him in a long time. James Sackett, is the best loved steam-ship pilot of the Ballantyne shipping line feels it quite an honor to bring Wren and her father back to New Hope. James didn't expect Wren to be so breathtakingly beautiful, he seems to be falling fast for Ms. Wren.
With many secrets and her hope to go back home, Wren feels likes she can confide in James. Little does she know that James has stronger feelings for her than first realized. James secretly counts on the fact that Wren may change her mind and decide to stay in New Hope. James feels he will have to help her regardless of his feelings. The author paints you a complete historical picture very true to the 1850's setting. Wren is such a sweetheart and easy to fall in love with. The push pull between Wren and James is contagious and leads you on a journey not yet anticipated. I love this the final book in the series!
**Disclosure** This book was sent to me free of charge for my honest review from Revell.