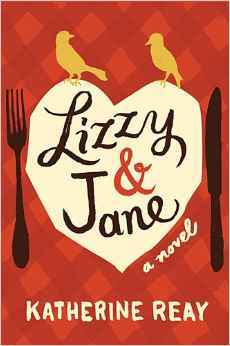 About the Book:
Lizzy and Jane never saw eye to eye. But when illness brings them together, they discover they may be more like Austen's famous sisters after all.

Lizzy was only a teenager when her mother died of cancer. Shortly after, Lizzy fled from her home, her family, and her cherished nickname. After working tirelessly to hone her gift of creating magic in the kitchen, Elizabeth has climbed the culinary ladder to become the head chef of her own New York restaurant, Feast. But as her magic begins to elude her, Paul, Feast's financial backer, brings in someone to share her responsibilities and her kitchen. So Elizabeth flees again.

In a desperate attempt to reconnect with her gift, Elizabeth returns home. But her plans are derailed when she learns that her estranged sister, Jane, is battling cancer. Elizabeth surprises everyone—including herself—when she decides to stay in Seattle and work to prepare healthy, sustaining meals for Jane as she undergoes chemotherapy. She also meets Nick and his winsome son, Matt, who, like Elizabeth, are trying to heal from the wounds of the past.

As she tends to Jane's needs, Elizabeth's powers begin to return to her, along with the family she left behind so long ago. Then Paul tries to entice her back to New York, and she is faced with a hard decision: stay and become Lizzy to her sister's Jane, or return to New York and the life she worked so hard to create?
About the Author:
Katherine Reay
has enjoyed a life-long affair with the works of Jane Austen and her contemporaries. After earning degrees in history and marketing from Northwestern University, she worked in not-for-profit development before returning to school to pursue her MTS. Katherine lives with her husband and three children in Seattle, WA.
Dear Mr. Knightley
was her first novel.
My Review:
Our family sometimes gets lost in the grand shuffle of life. We grow up and move on and many times we leave them behind, but when we do sometimes we don't realize that we lose a piece of ourselves along with the change. Soon "Lizzy" finds this out all on her own. After the loss of her mother to cancer Lizzy flees to conquer her dream and climb the culinary ladder. Soon she feels shut out of her kitchen and runs back home only to find out her sister is battling cancer as well. She realizes after a short time that she is at a crossroads and has to make a choice.
I was the sister that stayed behind with my parents. My two older sisters decided to move on with their lives. Family is extremely important to me, so that is the one thing that both my parents' deaths taught me. It taught me that family is everything. So with the family that my husband and I created we decided that we would be a very close knit family. I feel bad for Lizzy, reaching for her dreams cause her to lose out on so many things when she chose to leave them behind.
Katherine Reay, is an excellent writer! Her blend of characters rings true and her writing is easy to follow!
**Disclosure** This book was sent to me free of charge for my honest review from Book Look.