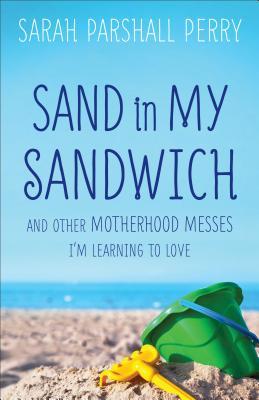 About the Book:
You know that thing when you're in Walmart at noon before you discover you haven't brushed your teeth? Sarah Parshall Perry gets that. She also gets weird things showing up in her bed, her daughter asking for war paint, and her son crawling into a giant blue sock on Christmas morning. Mainly, she gets that conflicted feeling of finding her kids hanging out in the dogs' cages and happily realizing they have stopped getting into trouble for a minute.
According to Perry, "The hardest stuff is the quickest way to God," and readers get to watch the systematic destruction of her carefully planned life, laughing at her missteps, aching at her tragedies, and recognizing themselves along the way. A mother of three children, two of whom are on the autism spectrum, she has experienced plenty of ups and downs, but from the chaos of her "ordinary" life she pulls the universal truths of motherhood, addressing them with humor, poignancy, and a naked honesty that will make the reader think, "That sounds a lot like my crazy life. "Perry helps mothers realize they aren't alone, even if they've fallen off the straight and narrow of their intended path and are instead lying in the ditch next to it. Life's a mess. But as Perry reminds us, it's all for a purpose.
Perfect for mothers, this book will encourage, inspire, and enlighten.
My Review:
Being a mother takes guts! There I said it! You have to be strong and sometimes you have to look really deep for that strength. The author gives us a real long hard look at the daily life of a mom in the crux of it all. She gives you the dirty side as well as the beautiful side of her life and the lessons she has learned along the way.
She relies on God each and every day to fulfill the hardness of being a mother. She does life with grace and she shows you how you can do the same. The lessons she has learned have molded the mother she has become. She gives the reader encouragement and inspiration to move on with motherhood through the hard times and trust God with all you have got.
My favorite quote from the book--"On this grand adventure, chaos looks a lot like perfect order in disguise." She notes in the book that sometimes God allows things to fall apart so that they can be pieced back together the right way. And I wholeheartedly agree with that statements. I tell my children all the time that God is in the details. He cares about us and our daily lives and He will teach us through our families how to do many things specifically though how to love others.
**Disclosure** This book was sent to me free of charge for my honest review from Revell.