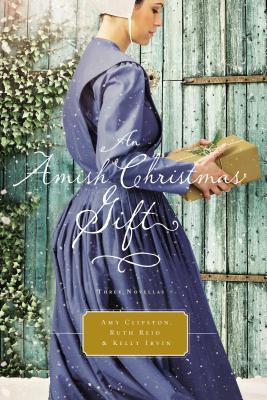 About the Book:
Naomi s Gift by Amy Clipston
Naomi has started to think that she isn t meant to find love, but she might receive more than she ever hoped for this Christmas.
Twenty-four-year-old Naomi King, who has been burned twice by love, has all but given up on marriage and children. As Christmas approaches a time of family, faith, and hope for many others Naomi is more certain than ever her life will be spent as an old maid, helping with the family s quilting business and taking care of her eight siblings. Then she meets Caleb, a young widower with a 7-year-old daughter, and her world is once again turned upside-down.
An Unexpected Joy by Ruth Reid
Abigail has driven other suitors away, but can Micah find a way to show her he cares?
Abigail Kemp has managed to frighten off every bu who s ever driven her home from a singing. Sure she will live to be an old maid, Abigail starts saving her money to buy a horse so she can at least have some independence.
Micah Zook is looking for a caregiver for his grandmother, and Abigail needs a new job. He never expected that Abigail would talk so much . . . or that his grandmother would keep finding ways to set the two of them up.
Despite Abigail s constant chatter, she and Micah become friends until Micah makes a decision that leaves Abigail feeling betrayed. With Christmas in their midst, can Micah find a way to reconcile with Abigail and to reveal what s on his heart?
A Christmas Visitor by Kelly Irvin
Frannie Mast returns to Bee County for Christmas, but her heart stays back in Missouri with an Englisch farm boy.
Frannie knows her parents have the best of intentions when they send her back to Bee County, Texas, to live with her aunt Abigail and her husband Mordecai. After all, she knows nothing can come of a relationship with Rocky, the handsome but Englisch farmer boy back in Missouri. It s best to put those feelings aside, no matter how hard it is. But all bets are off when Rocky follows Frannie to Texas to plead his case. Could he be the Christmas gift to end all gifts?"
My Review:
Just as the holidays are beginning to approach, this is the time when I start thinking about all things related. So My family and I have already started our pumpkin muffins and hot chocolate tradition because that's how we roll. Christmas is the best time for family and An Amish Christmas Gift is the novella to accompany us on this "sweet" tradition.
Naomi s Gift by Amy Clipston
Amy Clipston can really give you a good story to sink your teeth into. She does it rather well and we see that in Naomi's Gift. A story about a twenty something girl that feels there is no hope left for someone like her to find true love. But as the story goes, you find love when you least expect it. And so it goes for this young lady when she meets a young widower that instantly melts her heart.
An Unexpected Joy by Ruth Reid
Abigail is just fine with being an old maid. Every guy that has even looked her way she manages to scare off. She seems not to be troubled by this, but deep down I feel for her. And I think it just plain old hurts when a guy won't stick it out to get to know her a whole lot better. Soon Abigail receives what she may of needed all along in the way of Micah Zook.
A Christmas Visitor by Kelly Irvin
A sweet Christmas story to enjoy. I liked this one the best because of the cozy feel. The author made it feel like home and I think it resonated more with me than the other two. But each story was equally brilliant. Frannie receives a welcome surprise this Christmas but will she feel it's so welcoming when Rocky shows up at her Aunts home to plead his case?
Each story is perfect for a cozy read under a blanket accompanied with some warm coffee cake and a cup of hot chocolate by the fire. To welcome in the holiday season, An Amish Christmas Gift is the book for you!
**Disclosure** This book was sent to me free of charge for my honest review from Book Look.