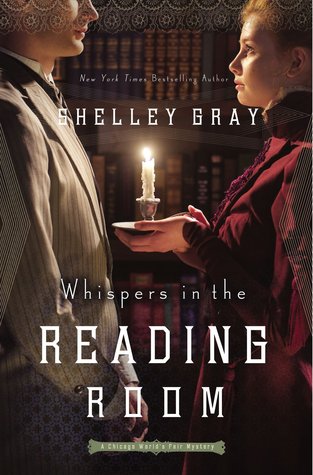 About the Book:
Lydia's job at the library is her world—until a mysterious patron catches her eye . . . and perhaps her heart.
Just months after the closure of the Chicago World's Fair, librarian Lydia Bancroft finds herself fascinated by a mysterious dark-haired and dark-eyed patron. He has never given her his name; he actually never speaks to a single person. All she knows about him is that he loves books as much as she does.
Only when he rescues her in the lobby of the Hartman Hotel does she discover that his name is Sebastian Marks. She also discovers that he lives at the top of the prestigious hotel and that most everyone in Chicago is intrigued by him.
Lydia and Sebastian form a fragile friendship, but when she discovers that Mr. Marks isn't merely a very wealthy gentleman, but also the proprietor of an infamous saloon and gambling club, she is shocked.
Lydia insists on visiting the club one fateful night and suddenly is a suspect to a murder. She must determine who she can trust, who is innocent, and if Sebastian Marks—the man so many people fear—is actually everything her heart believes him to be.
My Review:
Lydia Brancroft loves her job as a librarian, and one of her favorite pass times is watching the patrons, especially Mr. Tall-Dark-and-Handsome. He never speaks more than a few words and has never told her his name, but yet he still interests her. One day while having lunch with her fiance at the Hartman Hotel, she spots him in the corner watching her. She tries her best to remain cool while being under his stare and in the presence of fiance, but soon she finds herself in a difficult situation. And the one to save her is none other than the mysterious patron, who she learns of which is named Sebastian Marks.

Sebastian Marks is feared by many, and he appreciates that. Owning a notorious saloon and gambling club, he almost always finds trouble. And this time he finds it in one of his worst customers, Miss Lydia Brancroft's fiance. All Mr. Marks wishes is to be friends with Lydia, but soon his life becomes to much to hide. So when Lydia learns of Sebastian's business, she wishes to see the establishment, even if it isn't the best idea. While there something horrid accrues, leaving both Sebastian, Lydia, and their two friends under police investigation, for a murder. With so many things going wrong, who can you trust?

Whispers in the Reading Room is book three in the Chicago World's Fair Mystery Series. This book was an awesome read. Once you pick it up you wont be able to put it down. I adore this author, so this book will definitely be added to my favorites.

**Disclosure** This book was sent to me free of charge for my honest review from the author.