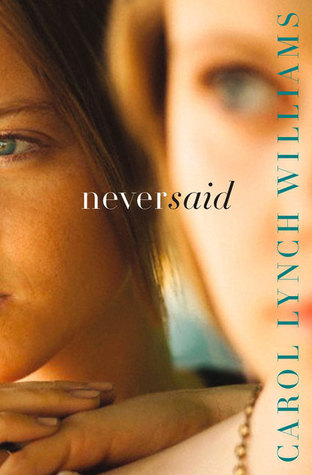 About the Book:
For as long as she can remember, Sarah's family life has revolved around her twin sister, Annie—the pretty one, the social one, the girl who can do anything. The person everyone seems to wish Sarah—with her crippling shyness—could simply become.
When Annie suddenly chops off her hair, quits beauty pageants, and gains weight, the focus changes—Annie is still the star of the family, but for all the wrong reasons. Sarah knows something has happened, but she too is caught in her own spiral after her boyfriend breaks up with her and starts hanging out with one of Annie's old friends.
Annie is intent on keeping her painful secret safe. But when she and Sarah start spending time together again for the first time in years, walls start to break on both sides … and words that had been left unsaid could change everything.
My Review:
Being a Sister is Hard.....
I was telling my daughter the other day that she needs to be grateful on about seven hundred different levels that she doesn't have sisters but all brothers. I told her it would just be better for her all the way around. I have two sisters and a brother that passed before I was born. Growing up with two other females in the family besides our mother was very difficult. My sisters and I do not have a close relationship at all and can't communicate very well. I am extremely hurt by this and feel like I have tried everything to make them a part of my life but it just ultimately fails time and again.
With all that being said when this book passed across my desk, I was very intrigued. Not only is it about two sisters but they are also twins. I could relate right away with Sarah. I have always felt like the sister or daughter shoved into the corner even when my sisters were rebellious and boy were they. So this book drew me in immediately.
While the plot line was very obviously related to things that happen in the here and now and situations that need to be addressed in a global way. I'm not sure that I'm a fan of how the book was written. I would of liked to see more dialogue between the two main characters.
I grew even more proud of Sarah by the end of the book, she refused to take this obstacle that was presented to her sister lying down. By the end I was cheering for the both of them and claimed sisterhood for all. A very good read that will make you want to help any young girl in the same situation.
Perfect for ages high school and up.
**Disclosure** This book was sent to me free of charge for my honest review from the author.