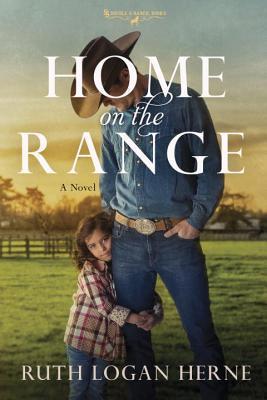 About the Book:
A cowboy romance with a heart of gold, in Home on the Range author Ruth Logan Herne returns readers to the Double S Ranch where God and family are first, but love is certain to follow the Stafford menfolk. Nick made all the wrong choices for all the wrong reasons. His father had failed at marriage and fatherhood. Nick was determined to show him up. He'd be a better husband, better father and a better ranch manager than Sam Stafford ever hoped to be. But Nick's wife Whitney hated the ranch and she walked out on Nick and their two beautiful daughters three years ago.
For a long time Nick pretended everything was fine and when his stubborn nature is finally challenged by trouble with his young girls, he's faced with the changes he should have made long ago. Psychologist Dr. Elsa Andreas had a thriving family therapy practice, a school commission, a good life, but tragedy pushes Elsa to walk away from her life.
Three years later, she's tucked herself in the backwoods of Gray's Glen. When her sister encourages her to help Nick Stafford's daughters, Elsa takes a chance. But Nick's ex-wife comes back to town, threatening the girls' newfound stability. Can Nick find the forgiveness and Else the courage to build their own "Home on the Range"?
My Review:
Home on the Range is book 2 in the Double S Ranch series. This addition is all about Nick Stafford and whats going on with him. Poor Nick, I feel so sorry for him. His former wife was not happy with the ranch life and she ran off and abandoned her family. her small family that consisted of her, Nick and their two small daughters. Nick's poor children have suffered the most and it is starting to show and so it is time for Nick to take some action that he has put off long enough.
So that is when Dr. Elsa Andreas is brought into the picture and she wants to help Nick and his girls but getting closer to them means that she has to share with Nick things that she may not be so willing to share. But as soon as these two start to get cozy someone shows up that can destroy it all. Hopefully the two of them will be able to stay together because they seem like the perfect match.
**Disclosure** This book was sent to me free of charge for my honest review from the author.