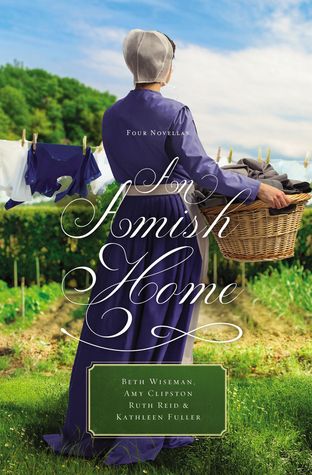 About the Book:
A Cup Half Full by Beth Wiseman—Sarah Lantz always dreamed of the perfect home, the perfect husband, the perfect family. When she married Abram, she knew she was on her way to securing her perfect life. All of that changes in one moment when an accident leaves her unable to walk and confined to a wheelchair, dashing all of her dreams. As Abram starts to transform their home, Sarah begins a transformation in her spirit, and she begins, once again, to see her cup as half full.


Home Sweet Home by Amy Clipston—Down on their luck and desperate after they are evicted from their small apartment, Chace and Mia O'Conner reluctantly take Chace's Amish boss up on his offer to rent them the daadihaus located on his property. They are certain they will never feel at home in the rustic cabin without any modern conveniences, and they start to blame each other for their seemingly hopeless situation. But with the help of their new Amish friends, Chace and Mia begin to enjoy their cozy cabin and realize that home really is where the heart is.


Building Faith by Kathleen Fuller—Faith Miller knows that carpentry is an unlikely hobby for a young Amish woman, but she loves the work and it keeps the memory of her grandfather alive. So when her cousin asks Faith to build the cabinets in her new home, Faith is only too happy to take on the job, even if it is the most ambitious project she has ever taken on. The only catch is that she has to work with her ex-fiance, Silas. As they work to build Martha's kitchen, can they put the past behind them and start to build faith in one another again?


A Flicker of Hope by Ruth Reid—Fifteen years ago, Thomas and Noreen King were blissful newlyweds. Young, naive, and in love, life was rosy . . . for a while. Then trials and tribulations rocked their foundation, shattering them emotionally, and soon, their marriage was in shards. All hope for restoring their previously unshakable union seems lost. When fire destroys their home, Thomas and Noreen are left to sift through the rubble. As uncovered items from the remains of the house shake loose memories of the past, Thomas and Noreen begin to draw closer and a flicker of hope—and love—is re-ignited.
My Review:
A Cup Half Full
Trying to see the cup half full when you are confined to a wheelchair is very difficult, I am sure. Sarah had an ideal life before the accident and then this so called blessing of an accident changed her life. Abram is doing his best to lift her spirits and he thinks he may know what will do the trick. Poor Sarah soon realizes that she and her family are what makes her life ideal not a set of perfect circumstances.
Home Sweet Home
Chace and Mia feel like this is not what they signed up for. After accepting Chace's boss' offer on new living conditions they seem like they are having more problems now than before. After they start accepting help from their Amish friends their seemingly simple existence turns out to be exactly what they needed all along.
Building Faith
Faith has always enjoyed carpentry. She seems to have a real knack for it. She is even getting offers of some work trickling in and she couldn't be happier. As she sets to work on her recent cabinetry job she finds out that she is set to work with Silas a past love of hers. How will she be able to get past all the history between the two of them and give Martha a finished product that she will be proud of?
A Flicker of Hope
Thomas and Noreen thought they knew all too well what a fractured family looked like especially when accessing their rocky marriage. But soon they were given something even harder to deal with and now they aren't so sure what to make of it. Soon after the fire it seems there is still hope for them, after all.
**Disclosure** This book was sent to me free of charge for my honest review from the author. All opinions are my own.