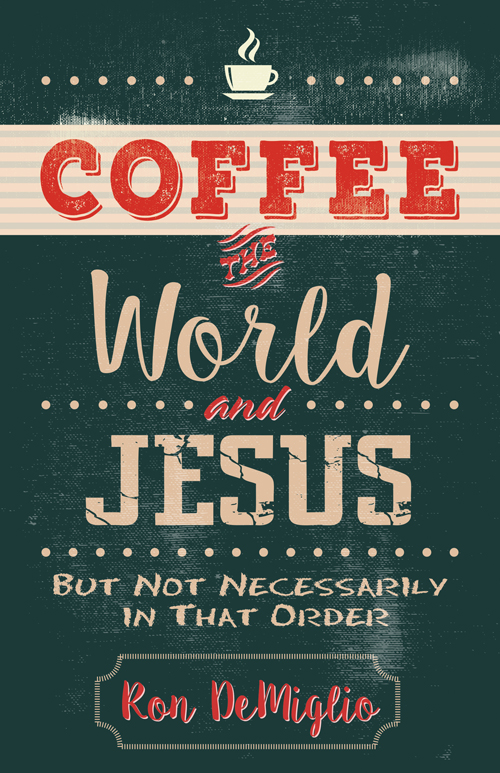 About the Book:
Life lessons and almost irreverent musings from twenty-five years in the global coffee industry When many Christians take a long, hard look at the lives of the spiritual elite in America, they want to shout, "I don't want to be like that!" Ron DeMiglio knows how they feel and he's not afraid to do the shouting--even when those shouts are sometimes directed at himself.

Coffee, the World, and Jesus is a collection of mildly contrarian musings from this international coffee businessman who happens to love Jesus. In these humorous vignettes about the relational, flawed, unwavering faith Ron clings to, readers will find glimmers of their own daily struggles to reflect Christ in a fallen world. For the religiously cautious, the disillusioned, and jaded followers of Christianity, this is a refreshing look at how God reveals Himself to be so much bigger than politics, dogmas, or western influences.

Ron's sidesplitting series of stories about how he found his spiritual groove smack-dab in the middle of his God-breathed, coffee-scented uniqueness will appeal to readers looking for a quick bite of spiritual growth with their next latte.
My Review:
I'm not real sure what to think about this one. I thought when I signed up for the review that I was getting a trendy, quirky book on real life, but it reads more like a relaxed commentary of sorts. I didn't feel that it was a nice, cozy book to sit down and enjoy on a rainy day in. So with that being said. This book was a little too uptight for my tastes, but if you would like a more philosophical type read than this book might be for you.
The author takes a bit of a hard-line type of approach to the real world and equates it to a coffeehouse type of Jesus which to me, He isn't. It is well written and it is based mainly on His own experiences and lessons learned.
**Disclosure** This book was sent to me free of charge for my honest review from the author. All opinions are my own.